Towards Facebook's IPO, we collected some facts, numbers, opinions and gossip from all over the web into one short post. Kind of an executive summary just for you, so we hope you'll enjoy it.
Also, to celebrate the event, we at StatsTrade conducted our own study, asking people how they believe the Facebook stock will perform after its IPO. The results of the survey are summarized in the image below. About 76% were reluctant to buying the stock in the near future, while only 12% said they'd buy into it as soon as they could. These results conform with other recent studies on the public sentiment regarding the firm.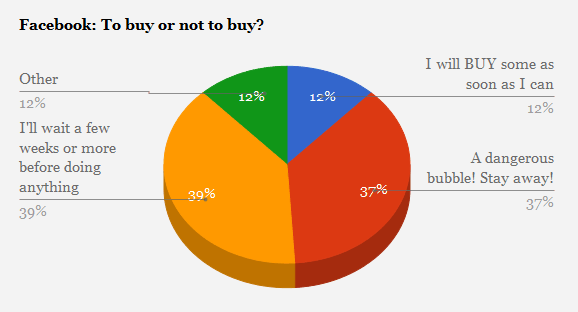 We will of course keep watching these kids play and socialize with each other: ZNGA, FB, LNKD. To stay up to date, follow us in Facebook or Twitter!
(and it's still not too late to get Nate's professional stock analysis reports to your inbox; see our main page; this really-free service may be shut down soon, so enjoy it while you can)
Now here's that executive summary we promised you.
Some facts
Facebook will go public on May 18, 2012, listing its stock on the Nasdaq under the stock symbol "FB".
Facebook is expected to raise over $10B. The IPO price range of $28-$35 per share values the company between $85B-$95B.
Some Facebook numbers
Some numbers from Facebook's report:
End of March 2012: 901M monthly active users (6.6% increase since end of 2011). Expected to hit the 1 billion users mark by the end of 2012. The growth graphs show a surprisingly steady linear increase of ~58M monthly active users every quarter over the last 3 years.
3.2B likes and comments per day. 300M photos uploaded per day. 125B friendships.
Year-to-year comparison, three months ended March 31, 2012 vs 2011:
Net income fell 12% to $205M from $233M.
Net income attributable to common shareholders fell 10.5% to $137M from $153M.
EPS: $0.09 compared to $0.11.
Revenues increased by 45% to $1.058B from $731M.
Costs and expenses rose by 97% to $677M from $343M.
Relation to Zynga:
"In 2011 and the first quarter of 2012, we estimate that up to 19% and 15% of our revenue, respectively, was derived from Payments processing fees from Zynga, direct advertising from Zynga, and revenue from third parties for ads shown on pages generated by Zynga apps. If Zynga does not maintain its level of engagement with our users or if we are unable to successfully maintain our relationship with Zynga, our financial results could be harmed."
"In 2011 and the first quarter of 2012, Zynga directly accounted for approximately 12% and 11%, respectively, of our revenue, which was comprised of revenue derived from Payments processing fees related to Zynga's sales of virtual goods and from direct advertising purchased by Zynga…"
Some opinions and gossip
Some want in:
While others keep a distance:
Warren Buffet won't invest in Facebook IPO: "never buy into an offering". Buffett explained he looked forward to tracking its progress but wanted to watch from a distance.
His investing partner Charlie Munger: "don't invest in what I don't understand".
And some worry/warn about about a bubble:
One CNBC's article can be summed up into: Beware of a possible Facebook bubble.
Analyst Sam Hamadeh warns in a Guardian post: "This company has done everything it can to have a blowout the first quarter… has this company peaked?… We often say that companies go public too early. Could this one be too late?"
Another one from the Guardian, where Dan Gillmor warns: "I have no idea whether the offering price will be appropriate, because I can't yet decide what I believe about Facebook's longer-term prospects. But I'm quite sure of this: we are in a tech bubble again, even if it differs in significant ways from the last one."
And finally, some gossip about Zuckerberg:
BBC: "Facebook founder and chief executive Mark Zuckerberg will remain in control of the company even after the IPO, controlling more than 57.3% of the voting power through shares he holds and through voting agreements with other stockholders. He will own 31.5% of Facebook's outstanding stock. At the top end of the price range, this would make his holdings worth $17.6bn. Such a value would put him at about number 33 on Forbes' list of the world's richest people."
WashingtonPost: Facebook IPO will make Mark Zuckerberg richer than Microsoft CEO.
According to Reuters, "Zuckerberg, who will have roughly 57 percent voting control after the IPO, personally forged the expensive deal to acquire mobile app maker Instagram in a matter of days last month with little involvement from Facebook's board of directors, according to media reports" (Facebook recently bought Instagram for $300M in cash and 23 million shares)